Actor, Director, Producer
ALAN TANG DIED AT THE AGE OF 64 ON MARCH 29, 2011.
According to reports, Alan Tang had been active and in good health up until the end. Those close to him said he passed away peacefully in his sleep. Although Alan Tang will be sadly missed by his family, friends and fans, his wonderful film legacy will live on.
Go to Reviews of Alan Tang Movies for pictures and story summaries.
Go to Alan Tang Chronological Filmography for a chronological list of movies.
Go to Alan Tang Alphabetical Filmography for an alphabetical list of movies.
Go to Chinese Filmography provided by Alan Tang for a complete list of his movies in Chinese.
Go to English Translation for an English translation of the Chinese Filmography provided by Alan Tang.
Go to 1970's Articles for early information on Alan Tang's career.
Go to 1970's Pictures for early pictures of Alan Tang.
Go to Current Pictures for recent pictures of Alan Tang.
Alan Tang Kwong Wing made many Hong Kong movies in the 70s, 80s and early 90s. His first starring role was actually at age 16 in a 1964 movie called The Student Prince. He got this role after some school friends showed his picture to the people making a movie at their secondary school. His role in this early movie earned the nickname of "The Prince". The First Prince of Hong Kong Title of this page is a tribute to the wise film makers who first cast Alan Tang in this role. When you look at pictures from his early films it is easy to see why this title fit him so well.
Other than impressive filmography lists, there did not appear to be much information available on Alan Tang Kwong Wing. This site contains a summary of what information I have collected about this talented actor.
First, I owe a great deal of THANKS to Leigh Melton for the encouragment to construct this page, for the technical help and for many of the initial pictures. Without her help it would not exist. There is a link to her spectacular webpage on Chow Yun Fat later on this page.
Second, a special THANKS also to the people at Mr. Tang's In-Gear Company for providing help and information. It was a thrill to visit Alan Tang's Hong Kong office on Monday, October 23, 2000, even though he was out of town (Shanghai) on business. It was great to see his 1991 Film Award, receive his Chinese Filmography (see link above) and hear from his secretary Tammy Tang (no relation), who has worked for him eight years, about his lifestyle and business plans. Alan Tang is a man to be admired both for his work habits and family commitments. Also, it was nice to get pictures such as the one below from the 1992 film Gun n' Rose.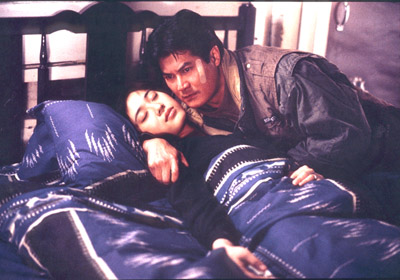 When we visited Alan Tang's Hong Kong office on September 27, 2001, he was in Germany on business related to his interest in dogs. We appreciated once again meeting with his secretary Tammy Tang who gave us the good news that his movie titles had been sold to Media Asia and should be released on soon DVD soon. Happily to date many have been.
In an August, 2005, phone conversation with Tammy Tang, she gave us the good news that Alan Tang is well and very busy with his casino business. He has no plans to return to movies. His film career has not been forgotten, however, as this 2005 press release from the Leisure and Cultural Services Department shows. "A new exhibition featuring seven charismatic actors from Cantonese cinema will run at the Hong Kong Film Archive (http://www.filmarchive.gov.hk) until October 9 (2005)." This is what they said about Alan Tang. "When Alan Tang began his acting career in the 1960s, he was a secondary school student and he capturned the hearts of many teenage girls. In the 1970s, he branched out to direct his own films and run his own workshops. Later he established a film production company and produced a number of quality films including two world-acclaimed movies by director Wong Kar-wai."
THANKS also to long-time Alan Tang fan Irene for sending the great 1970's articles and pictures on his career. Her help in translating some of the non-subtitled Chinese films has been most appreciated. Her help in translating the Chinese Filmography supplied by Alan Tang has been indispensable as well. Detailed information from Irene's translation shows that Alan Tang acted in 103 movies. Tang personally produced 17 movies and directed two. The first of these, made by Alan Tang under his Wingscope Company in 1977, was called The Discharged. In a 1974 movie magazine article (see articles section), Tang was credited with producing a movie called Splendid Love in Winter. Tang's Wingscope Company, according to his Chinese Filmography, made 15 movies and his In-Gear Film Production Company made 10 movies. All totalled, Alan Tang as an actor, or as an owner of the production company, was involved in the making of 114 movies. These are all listed in the English Translation section available at the link above.
In spite of Alan Tang's extensive contribution to the Hong Kong Cinema, most books on the subject mention him only in connection with producing Wong Kar Wai's movies. Fortunately, this is not the case in John Charles' 2000 book, The Hong Kong Filmography, 1977-1997. Charles describes Alan Tang as "an excellent, charismatic actor who deserves to be better known in the West". He continues on in his review of Flaming Brothers saying that both Alan Tang and Chow Yun Fat give engaging performances. In his review of Return Engagement, Charles comments that Alan Tang is a smooth and handsome actor who can play this sort of part with ease, endowing his character with a convincing amount of both compassion and languor. "His stature and screen presence go a long way in selling both the character and the film."
It is beyond the scope of this page to do a complete summary of the vast amount of work done by this creative and productive man. I have tried, however, to make a complete title list of all the movie names I have found associated with Alan Tang and/or his production companies. There are also links to other data bases which contain additional information on his work. These links are provided in the filmography sections.
Personal Information
Alan Tang is Cantonese and was born September 20, 1946, the year of the dog, in Guangzhou, PRC. He was the youngest of four children having two older brothers and one older sister. He attended New Method College (Sun Fat College) and after graduation taught Chinese History there for a while. Tang has a degree in Chinese History. He also speaks and reads English. He is married to wife Janet and has two adult daughters.
Alan Tang has been devoted to the movie industry throughout his long career, which began in earnest in 1967. He produced his first film in 1977. He is currently a successful businessman in Hong Kong with restaurants (Taiwan Beef Noodle, Taiwan Chicken Farm, The Banyan Tree) in many areas of Hong Kong. He owns an entertainment club called the New York Club and has invested in property. Alan Tang is a passionate supporter of many charities and organized the Channel Island Rotary Club. He also enjoys hunting and keeping dogs. The picture below taken in May, 1984 shows Alan Tang showing one of his Pointers at a dog show with his wife and young daughter along for support. I am told Tang owns 20 dogs currently from a variety of breeds. He keeps fit by exercising and running every day sometimes with the dogs for company.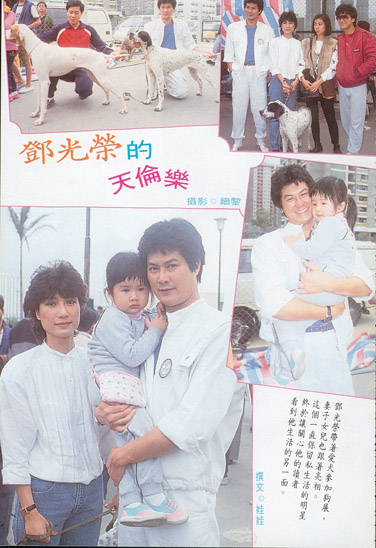 Alan Tang and Family at a Dog Show in May, 1984

Alan Tang works hard all week on business investments and other projects. Sunday is family day and Saturday he uses for relaxation. He has made a TV commercial for a friend's executive real estate development project. He is featured on a large billboard at the border where the train from Hong Kong enters mainland China.


Will Alan Tang return to film making?


In an interview quoted in Wolverine's News of the Week, March 19, 1997, Tang who was attending the Hong Kong and Kowloon Dog Club 46th Annual Spring Dog Show was quoted as saying he was interested in making a "heroic" action film called Jin Mo But Sing. He would star and produce but not direct this film because directing would be too much for him to worry about. Tang was waiting for the Asian film market financial situation to clarify itself. Tang further commented on the importance of a balance in film making being achieved between art and practicality in terms of the budget. He was speaking in reference to Wong Kar Wai directing a sequel to Days of Being Wild for his company.

According to a 1999 Sudden Weekly newspaper report Mr. Tang said he plans to return to film making in the near future.

In an Apple Daily article on 9/25/99 , Mr. Tang was quoted as saying he did not want to make movies but wanted instead to do his businesses. In a phone conversation on 4/17/00, a spokesperson at the In-Gear (Wingscope) Company confirmed with me that Mr. Tang has no movie plans currently. On our 10/23/00 visit to Alan Tang's office, his secretary gave no indication he would make new movies but did indicate that he was actively negotiating to release on DVD some 30 titles that he owns. On our 9/27/01 visit to Alan Tang's office, his secretary indicated that he still had no plans to act in new movies but that he had sold his movie titles to Media Asia for release on DVD. This is great news and even though we still hope Alan Tang will make some future movies, this sale will allow us to enjoy the ones he has already completed. You can read more about his movies on the following introductory pages. After that, use the Reviews of Alan Tang Movies link at the top for an in depth look.




Alan Tang starred with Chow Yun Fat in the movie Flaming Brothers in 1988. He also produced this film. Several excellent writeups are available. One of these in at The Free Man in Hong Kong Chow Yun Fat website run by Leigh Melton. In addition you can check out A Hearty Response which was produced by Alan Tang's company and starred Chow Yun Fat.

Go to The Free Man in Hong Kong site.

Information on both Flaming Brothers and A Hearty Response can also be found at Winnifred Lewis' Chow Yun Fat God of Actors site.

Go to God of Actors.

Alan Tang founded both the In-Gear Film Production Company, LTD.(1987) and The Wing-Scope Company (1977). Both companies made Hong Kong films in which such notables as Chow Yun Fat, Brigitte Lin, Andy Lau, and Simon Yam acted along with Alan Tang. Both companies were famous for their triad theme movies, from which Alan Tang acquired his second nickname of "Big Brother". He is often called by this title today. His two companies also produced many Hong Kong films in which he did not star including the acclaimed film Days of Being Wild.


In an interview at the Chinese University of Hong Kong School of Journalism and Communication, Alan Tang was asked how he looked at movies. He is quoted as saying "I treat a movie as artwork before it is completed, but afterwards, it becomes a commercial product to me." When asked about the key to success. He answered "will power and concentration. When you have determined to do something, just commit yourself and do it." The complete interview can be found at the Chinese University site. Go to Interview.

I have acquired 55 of Alan Tang's Hong Kong and Taiwanese movies to date. They are mostly in VHS and VCD formats with two on Laser Disk and two on DVD. I am in the process of doing pictures and story summaries on them. Go to Reviews of Alan Tang Movies .

For a list of all movies produced and/or acted in by Alan Tang check the filmography links at the top of the page. These lists were compiled from all the filmographies I could find for him. Some of the English titles in this section may be in error according to Mr. Tang. If you read Chinese, you can check the Chinese Filmography section which came directly from Alan Tang. The filmography sections contain links to other movie data bases where some information on Alan Tang movies can be found. Some places to buy Alan Tang movies are listed there also.




Alan Tang Acting Attributes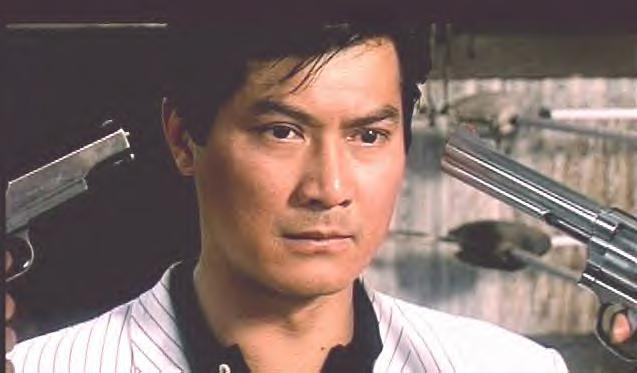 Here is one sample of the many attributes of Alan Tang as an actor. As a dramatic actor, Alan Tang shows tension and intensity under pressure in the calm before the storm in this scene from Flaming Brothers.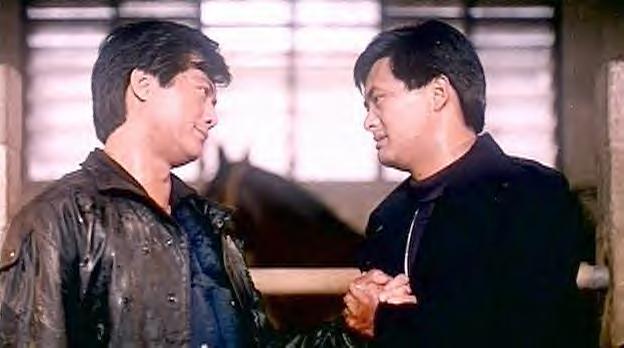 Male bonding and friendship is a major theme in many Hong Kong movies. Alan Tang does an excellent job of this with Chow Yun Fat in Flaming Brothers.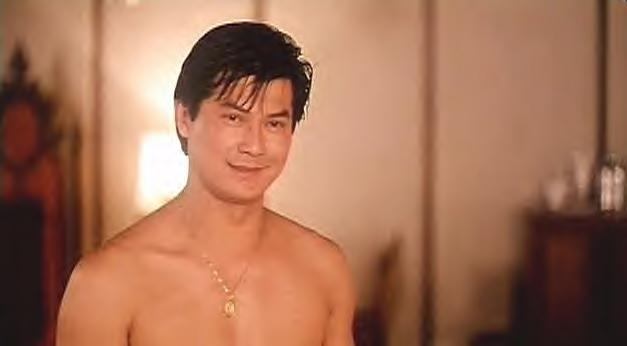 Romantic roles are second nature to handsome Alan Tang. He projects a sexy yet playful image that is most appealing. This picture is from Flaming Brothers also.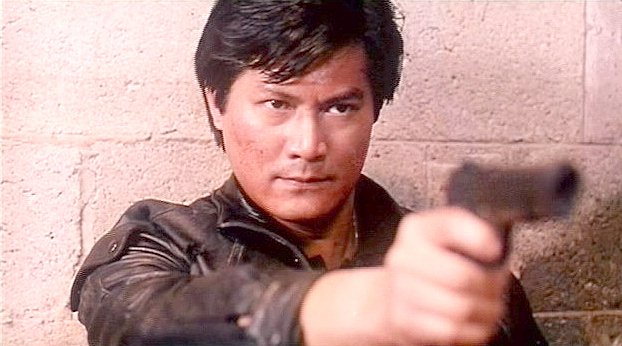 Alan Tang is the ultimate Hong Kong action hero. Guns, kicks, punches, knees, elbows, throws - he uses them all in the final sequence of Flaming Brothers as well as in many other of his films.
For more pictures of Alan Tang in Flaming Brothers.
Go to more flames.
The Changing Face of Alan Tang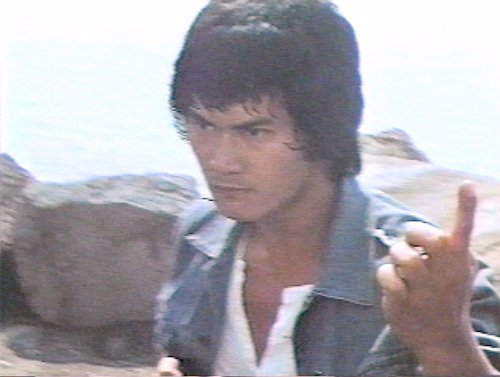 This picture is of Alan Tang in 1973 after a fight sequence in the film Dynamite Brothers. This movie was made in the US and featured him with English dialogue. He costarred with African-American actor Tim Brown in this action epic.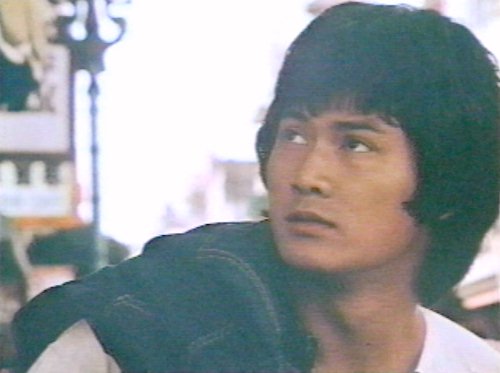 In this shot also from the Dynamite Brothers, a dreamy looking young Alan Tang displays the "look"that made him a famous heartthrob all over Asia in the seventies.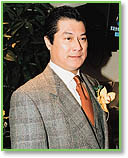 Alan Tang as pictured (right) in a 1999 Sudden Weekly Limited newspaper story. Still handsome and fit looking, he was quoted as saying he would be back in the movie business. He said he is constantly thinking about new ideas for films and has a drawer full of them. At the top of the list is a biographical story called Kong Mo Gong Wu (Mad Dance World).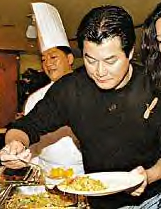 In this July, 2000 Apple Daily picture, Alan Tang enjoys a banquet after Lydia Shum Din Ha's concert in Hong Kong.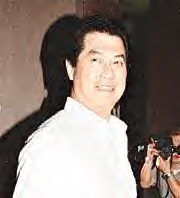 This picture of Alan Tang appeared in the July 23, 2000 Oriental Daily News. For more current pictures of Alan Tang, use the current pictures link at the top of the page.
For more pictures of Alan Tang in other movies. Go to more faces of Alan Tang
I, Cyndy Jones, am the person constructing this Alan Tang Kwong Wing website. It is for his fans and I would welcome any information you might want to add to it about Mr. Tang and/or his movies. I do not read Chinese so please translate anything you'd like to have added. Email me at ETomJones@aol.com.